Recent News
Below are some of our most recent news items.
Diver survives exploding heat pack on deep dive (03/09/15)
Sport Diver contributor Gavin Anderson has survived a freak accident after a heat pack exploded on a technical dive.
Gavin, who was deeper than 50m when the pack exploded on his lower back, suffered serious chemical burns.
It is believed the heat pack reacted with the oxygen-enriched air used to inflate his drysuit.
Despite being in significant pain, a steady 20-minute ascent was completed, with all the necessary deco stops ticked-off.
Gavin said: "The pain was isolated to a small area of my back so I could just about cope with it but it was a pretty horrible experience.
"I have to praise the skipper of the local dive boat and the divers themselves for the way in which they remained calm. They were well equipped and ready to deal effectively with this incident."
Seal wants a tummy tickle! (01/09/15)
http://www.carvemag.com/2015/08/seal-wants-a-tummy-tickle
The best video you will watch all weekend. Seal wants a tummy tickle. Videographer Gary Grayson get an unbelievable encounter with an Atlantic Grey Seal whilst Scuba Diving in the Isles of Scilly off the coast of Cornwall.
As Atlantic surfers we are lucky to share the ocean with these guys. The wild ones are usually inquisitive but keep their distance, the rescued and rehabbed seals are more playful with plenty of leash pulling and close encounters recorded. As with all wildlife don't approach or scare but if they come to you like this there's not a lot you can do but play.
If you lived underwater,what would you look like? (28/08/15)
On 4 August 2014, a boat at the end of its working life made a last journey out to sea, before catching fire and descending to its final resting place. (26/08/15)
Studland Bay undulate rays footage is found in Dorset (26/08/15)
Dorset Wildlife Trust says new footage of endangered undulate rays in Studland Bay is "exciting", and could add weight to its campaign to have it made a marine conservation area.
Wildlife photographer Steve Trewhella shot footage of the rays earlier in August, confirming the site is a nursery for the endangered species.
Marine awareness officer Julie Hatcher said rays reproduced very slowly.
Nurseries are found in only in a couple of places along the south coast.
'Beautiful animal'
Ms Hatcher said the trust had long been aware Studland Bay was a nursery area for rays, as in autumn and winter hundreds of egg cases, known as "mermaids' purses" are found along the shore.
Volunteers have been collecting the egg cases, and the majority are those of undulate rays.
However, the baby rays have not been photographed for a number of years: they are so well camouflaged, it is very difficult to spot them.
Ms Hatcher said: "They are a very beautiful animal.
"They have fantastic markings which looks a bit like Aboriginal art."
The nursery is particularly important because rays only lay a few eggs which take a long time to hatch, and take a couple of years to reach maturity, making the species very vulnerable to over-fishing.
Commercial fishing of undulate rays is prohibited, but they can be caught legally by recreational anglers.
Diving to explore England's coastal wildlife (24/08/15)
Robots to capture images of ocean life off Pembrokeshire coast (21/08/15)
Media caption
A pair of pioneering robots have set off on a voyage to capture images of the ocean life off the coast of Pembrokeshire.
The project, described as a new era in marine research, is a partnership between the National Oceanography Centre and wildlife charity WWF.
The robots will spend a month gathering data, controlled by scientists in Southampton and Portsmouth.
The first robot - Thomas - took to the sea in Milford Haven on Thursday.
The devices are part-powered by wind and solar energy and controlled remotely by satellite.
The C-Enduro robot Thomas will work in tandem with an underwater glider moving up and down in the water.
Each vehicle will be carrying sensors capable of measuring the temperature and salinity of the water, and acoustic 'pingers' to detect plankton and fish shoals.
The surface vehicle will also carry GoPro cameras to capture images of marine life and litter and acoustic monitors to detect clicks and whistles from echo locating marine mammals.

Celtic Deep facts
The Celtic Deep is a hotspot for marine mammals, including common dolphins, harbour porpoises and the world's second biggest animal, the fin whale
Despite this it has yet to be designated as a Marine Conservation Zone (a type of marine protected area in the UK)
The data gathered by the robots could help inform the Welsh and UK government processes for protecting this unique region

The information will give scientists a better understanding of the environment, helping inform conservation and management of marine activities.
From Milford Haven, Thomas will move to an area south west of the Welsh coast known as the Celtic Deep, approximately 50 miles offshore.
The glider was launched from Royal Research Ship Discovery on 10 August and was flown to meet Thomas at a point off the Welsh coast.
Next month the vehicles are scheduled to return to the National Oceanography Centre laden with pictures and data, which are expected to reveal the extraordinary richness of these waters.
Dr Lyndsey Dodds, Head of Marine Policy at WWF-UK, said: "As well as being home to a wonderful array of animals and plants, our seas provide vital resources such as food and energy.
"By using innovative technology like these vehicles we can learn more about the life that is offshore and out of our sight and make sure these areas are given the protection that they need."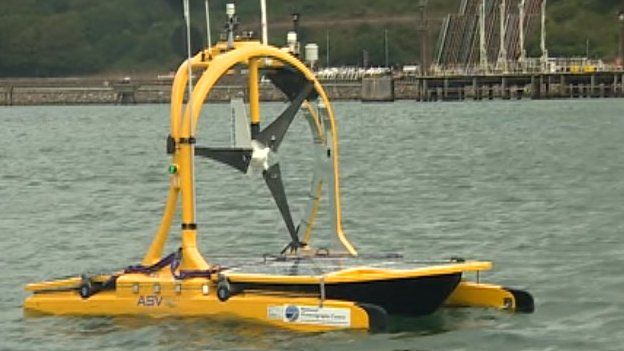 RNLI celebrates opening of £24m Poole all-weather lifeboat centre (21/08/15)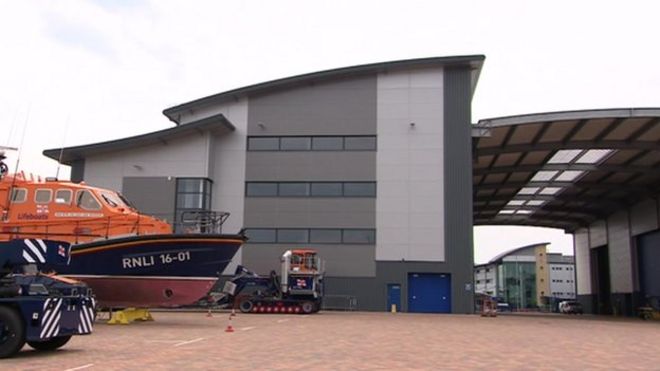 The RNLI hopes the new, more efficient centre will save it more than £3m
The RNLI is celebrating opening a £24m lifeboat centre in Poole where six boats could be built every year.
The charity said the all-weather facility would bring the production and maintenance of its lifeboat fleet in-house and under one roof for the first time in its 191-year history.
An official opening ceremony, which is expected to be attended by 500 people, will take place at 11:00 BST.
This weekend, people will be able to tour the centre.
Event logistics manager Chloe Parmiter said the centre was expected to save the RNLI more than £3m a year.
She said: "It gives greater control of costs and quality, and has created 90 new employment opportunities in Poole, including apprenticeships in marine engineering and boatbuilding."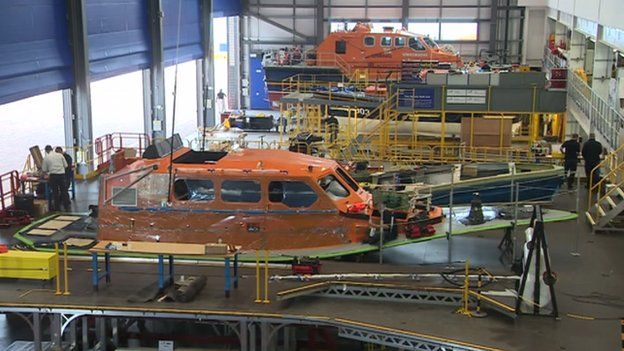 Head of construction and refit Angus Watson said the new lifeboats were 50% faster than those they will replace, increasing the chances of successful rescues.
Florida treasure hunters find gold coins worth $4.5m (20/08/15)
Treasure hunters in the US say they have discovered a haul of Spanish gold coins from the 18th century that are worth $4.5m (£2.9m).
The 350 coins have lain on the Atlantic sea bed off the coast of Florida for the past 300 years.
The coins are from a fleet of 11 Spanish galleons that sank during a hurricane while making the journey from Cuba to Spain.
Treasure hunting is a popular activity in the waters around Florida.
The discovery is the second major find by treasure hunters in recent months. In June, they found about 50 coins worth about $1m.
The 350 coins, which were brought to the surface at the end of July, turned up in just a metre of water close to the shore, buried under the sand.
Under US state law, Florida will keep 20% of value of the find.
The diver who discovered the coins, William Bartlett, declined to say what his cut would be, telling a local newspaper: "I'm just a guy on a boat living the dream."
Brent Brisben, who owns the rights to the wrecked ships, says the find includes nine rare pieces known as "royal eight escudos". Only 20 were known to be in existence before this latest find.
"These royals are perfect specimens of coinage of the time and they were made on royal order for the king of Spain," Mr Brisben said.
Putin in Crimea: Leader dives on Black Sea shipwreck in minisub (19/08/15)
8 August 2015 Last updated at 16:37 BST
Russian President Vladimir Putin has been taken in a submersible to a sunken shipwreck during a visit to Crimea, which was annexed by Moscow last year.
Fathom drone for divers unveiled (19/08/15)
A drone that can help divers and snorkelers explore or reveal the location of shoals of fish is being developed by a start-up in the US.
Controlled via a smartphone app, the Fathom has an onboard camera and a turbine that directs water through holes in its shell, allowing it to dive, steer and surface.
Expected to cost about $450 (£290). it is believed to be the first underwater drone purpose-built for consumers.
It was inspired by a lake in Michigan.
Co-creator Danny Vessels said: "I had always heard rumours of horse drawn carriages that were used to transport logs across the frozen lake and had fallen through the ice," he told the BBC.
"Locals always claimed that they had gotten stuck at the bottom and are still there today."
Mr Vessels looked online for submersible drones but found only the very expensive craft used by oceanographic researchers and survey companies or drones requiring significant technical skill to assemble.
After four months working on the Fathom drone with his friends Matt Gira, Matt Webb and John Boss, he is now refining the prototype.
Navitus Bay wind farm firm gives land back to crown (19/08/15)
The company behind a planned offshore wind farm said it has given back almost 80% of its development area.
The Navitus Bay project - for up to 121 turbines off Dorset, Hampshire and the Isle of Wight - announced it would hand the seabed back to the Crown Estate.
But Bournemouth council, which opposes the £3.5bn scheme, has dismissed the announcement as a "smokescreen".
The Secretary of State for Energy and Climate Change is currently considering whether to grant permission.
The Planning Inspectorate has spent six months studying the plans, which developers say could power up to 700,000 homes when completed.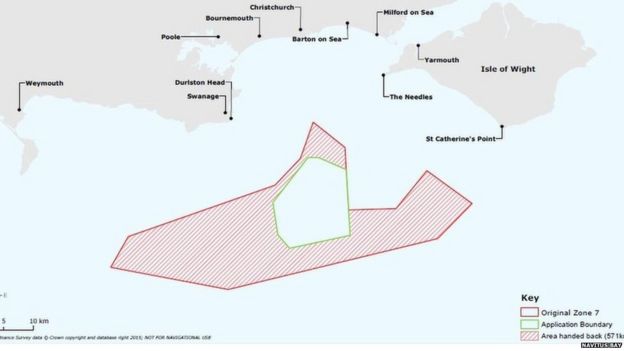 Navitus Bay said it had always promised it would not use the remaining parts of the development area to build a larger wind farm if the project gained consent.
The company said: "Today's move, which will see decisions about this unused area being taken away from Navitus Bay, fulfils this promise."
Responding to the announcement, leader of Bournemouth Borough Council John Beesley said it was "designed to draw attention away" from the scheme's drawbacks.
He said: "Navitus Bay wants to develop one of the most environmentally sensitive parts of the seabed with a vast wind farm that is too close to shore and will severely damage the sensitive natural coastline and local economy."
He added that the plans would risk almost 5,000 local jobs and cause a total economic loss of £6.3bn.
Andrew Langley, of campaign group Challenge Navitus, said the "so-called handing back" of unused seabed was entirely normal and of no significance.
He added: "It does not guarantee that the remaining seabed will not be used in the future for other energy projects or oil and gas exploration.
"We maintain [Navitus Bay] is too big and too close to the protected landscapes of Dorset, Hampshire and the Isle of Wight."
Hope at new sightings of Seahorse. (19/08/15)
New sightings of seahorses off the Dorset coast show the creatures are alive and breeding, Dorset Wildlife Trust has said.
There had been concern that recent harsh winters could have threatened their survival in Studland Bay.
The trust's Julie Hatcher stumbled across a male and female seahorse while diving, describing them as being "large and in tip top condition".
The bay is an important habitat for both spiny and short-snouted seahorses.
In 2008 both species were listed under the Wildlife and Countryside Act as threatened.
A trust spokesperson said not enough was known about the creatures to explain the lack of sightings in the bay's sea-grass meadows in recent years.
"Maybe because fewer people have been surveying for them or it might also be that the population follows a boom and bust cycle," a spokesman said.
Studland Bay was dropped from a list of potential Marine Conservation Zones in February.
A petition opposing the decision to exclude the area from a marine protection programme attracted more than 150,000 signatures.
Simon Faithfull boat sunk as part of art project (26/09/14)
On August 4th 2014, artist Simon Faithfull purposefully sunk a boat in Weymouth Bay. From the moment the boat began its journey to the bottom of the sea, onboard cameras have been transmitting live video images so online viewers can witness the boat's slow metamorphosis into a new underwater ecosystem, in the form of an artificial reef.
The cameras will remain transmitting for a year, with the images relayed to exhibitions in Brighton, Calais and Caen.
REEF is Faithfull's most ambitious project to date representing a unique collaboration between the artist, arts organisations, marine industries and conservationists, divers and specialist technicians.
Collaboration with partners in Portland, Dorset, most notably Wreck to Reef, a not-for-profit organisation seeking to regenerate an area of the seabed near Portland has been key to the development and success of REEF.
The co-ordinates are Lat 50 36'58N Long 002 20' 51W. Depth is 21.6 mtrs to the sea bed and 17.2 mtrs to the top of the wheel house. It is a mile and a half off Ringstead beach about 3 miles from Weymouth. Its 45 feet long so not the biggest but perfect for its purpose.

There is a large yellow buoy attached to it with solar panels to drive the cameras and Wi-Fi links, so finding it should not be a problem. The cameras alternate being on every 5 seconds so someone may see you at some point.
Dry Dives (27/01/14)
At the The Diver Clinic we run education evenings about decompression illness, these evenings include a "dry" chamber dive.
Due to demand we now have a limited number of additional dates available at our Poole & Reading chambers. The evening sessions are available to groups, clubs and dive schools free of charge.
For more details & to book an evening for your group please contact us.
Diving Abroad ? (15/10/13)
With the winter fast approaching many fellow divers are planning trips to warmer climes, some are well seasoned, and for others it will be their first ever experience of diving and the underwater realm.
Always remember to review your training material regarding safety and diving abroad, for those going abroad to train for the first time, make sure you speak with your training provider.
You must remember to leave a safe minimum duration between diving and flying to reduce the risk of developing
decompression illness
"the bends"
The minimum surface interval between diving and flying will vary depending on your training organisation and the type of diving conducted, so make sure you check this.
Even if you do not display
symptoms
of decompression illness (DCI) post dive, you can develop symptoms during your flight due to the pressure differential between normal atmospheric pressure at sea level and the pressure maintained in the aircraft cabin.
Even if you have left the minimum surface interval between your dive and flight, it is good practice to keep this in mind and be aware of any developing symptoms. If you do develop symptoms you should seek advice as soon as possible.
For diving medical advice before & after your diving holiday, please contact us during normal working hours.
Some countries require recreational divers to hold a valid 'fit to dive'
medical certificate
, please contact The Diver Clinic for advice & booking.
For urgent DCI enquiries,
contact us
immediately on our 24 hour recompression service & advice line. You will always be directed to your closest appropriate chamber.
24 hour emergency number: 07770 423 637
Stay Safe & Happy Diving !
The Diver Clinic